MATTHEW C. FOX, PRESIDENT & CEO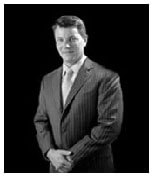 As President and CEO, Matt oversees all aspects of the Bullen Insurance Group's strategic development, management, and operations. Matt joined Bullen in 2006, and became CEO in January of 2007.

Prior to joining Bullen, Matt was a Vice President at Global Crossing Telecommunications, Inc and worked to bring early trading technology to the financial markets. While at Global Crossing, Matt lead one of the largest global technology outsourcing projects of its time, valued at over $500 million. He later joined SWIFT, the bank-owned cooperative headquartered in Brussels, BE. As a Director at SWIFT, Matt helped to develop and establish SWIFT's business of secure messaging solutions for global securities and capital markets.

Matt holds a B.S. in Physical Chemistry from St. Lawrence University, class of 1993.